Having Your Baby When Others (or You) Say No!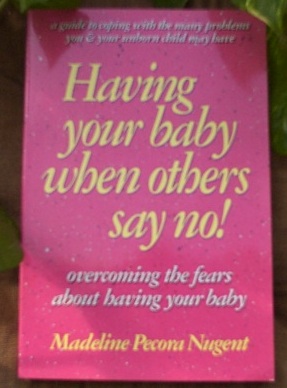 By Madeline Pecora Nugent
Originally Published by Avery Publishing Group
Garden City Park, New York, 1991
A complete, on-line, self-help book dealing with
unplanned, surprise, unwanted, or crisis pregnancies.
Workable solutions for every situation, plus computer privacy.
This book may be ordered in published form (while supplies last) for $5 per copy by clicking on this link
.
Table of Contents (click on yellow links to access chapters)
I. PREGNANCY CRISIS--FIRST REACTIONS
Solving Your Problems--One at a Time
Bothering with a Pregnancy
II. GETTING THROUGH THE PREGNANCY
Confirming, Confiding, Caring, Concealing--Four
C's of Pregnancy Crisis
Keeping Your Pregnancy a Secret
Relieving Panic and Stress
Developing a Positive Attitude
Writing Your Way Through Your Crisis
Obtaining the Essentials
Dealing Wisely with Professionals
Handling Family and Friends
Influencing Your Love Relationships
Continuing Your Education and Career
Handling Pregnancy in Prison
Facing Medical Difficulties
Confronting Fears About Your Health
Confronting Fears About Your Baby's Health
Choosing Prenatal Testing
Thinking About Parenting Your Baby
Fitting Baby into Your Lifestyle
Thinking About Adoption
Making an Adoption Plan
Dealing with Sexual Violence
Overcoming Sexual Pressure
Creating a New You
Facing Your Own Death
Making Parenting Plans for the
Special Needs or Dying Child
Dealing with Previous Abortion
Living Through Your Baby's Death
APPENDICES
Appendix A A Summary of Prenatal Development
Appendix B Letter from an Adult with Special Needs
Appendix C Birth for the Mentally Retarded Mother
Appendix D If You Don't Want a Child
Appendix E Choosing Professional Care
Appendix F Evaluating Lifestyle Options
Appendix H Using Special Agencies
ONE EXAMPLE OF A Pregnancy AIDgency--ON-LINE INFORMATION